This Sunday, October 16, is World Food Day. As decreed by the UN's Food and Agriculture Organization, it is the official day to encourage agricultural food production and stimulate farming efforts, as well as several other food security issues.
If you're looking to celebrate local bounty and defend your right to healthy, local food, this Sunday is your day.
And lucky you, if you're in Southern Ontario, this weekend is Foodstock.
Even the Foodstock poster recalls that other 'stock that changed so much, which took place back in 1969 in an upstate New York farmer's field. Remember that? Neither do I. This time, the little birdy is perched on a saucepan handle. Nice.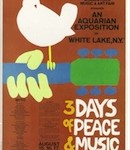 The Foodstock deets
If you haven't heard, Foodstock is a pay-what-you-can, outdoor, food and music event in Melancthon County. It is the baby of activist chef Michael Stadtländer, who has invited some 100 top chefs from across Canada to prepare locally produced treats just for you. And it gets better.
Foodstock is a fundraiser to support of the movement to Stop the Mega Quarry. All funds go to stop the mega quarry application by the Highland Companies to create a limestone quarry that would cover over 2300 acres of prime agricultural land and dig into pristine aquifers next to the Niagara Escarpment.
Sunday's event is open to the public and is pay-what-you-can, though the suggested price is $10 – which is a steal if you consider the caliber of chefs who will be there — all the gros fromages from Toronto's resto scene and beyond, including Jamie Kennedy, Pizzeria Libretto, Oyster Boy, Café Belong and Enoteca Sociale. Ethical suppliers such as Hooked, Cumbrae's and Choco Sol have also offered support.
By bringing local food producers and consumers together, Foodstock aims to highlight the connection between eaters and farmers, and encourage those who love local food to stand up and voice their opposition to a project whose opponents fear will destroy the region's farmland and way of life.
The Highland Companies is owned by a Boston-based hedge fund. According to the Toronto Star, the company assembled farmland north of Organgeville to grow potatoes, and then made their application to develop one the biggest rock quarries in Canada—1 million tonnes of limestone from fertile potato fields. We need limestone, yes. But do we need this limestone? It sets an odd precedence to value pavement over food.
When: Sunday Oct 16, 11 a.m. to 5 p.m.
Where: Outdoors, on the Honeywood-area farm of Diane and Bill French, who own remaining farmland that has not sold to the Highland Companies
Transportation: http://nomegaquarry.ca/events/foodstock/
Cost: PWYC, suggested price $10. Pay in advance or at the gate.
What to bring: dress for the outdoors and, if you can, bring your own plates and cutlery to cut down on waste
Leave a Response