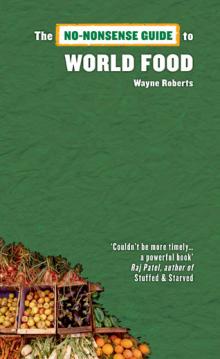 I finally finished the biggest little book I've read in a while: Wayne Roberts' The No-Nonsense Guide to World Food, 2008. (merci François!)
World food is clearly a vast topic, but Roberts is a man for the task and walks us though the whys and wherefores of our current global food systems, and more importantly, how we got to be here.
Pulling from various sources, sector experts and personal experiences that have taken him around the world, Roberts uses simple, direct language that will appeal to those hungry to learn more about the reality of our global food situation.
Roberts begins by explaining how a food system, is exactly that, a system. And as a systemic entity (think respiratory, circulatory), it reaches far into all aspects our lives, and our communities. Family meal times, recipes handed-down over generations, seasonal celebrations and cultural festivals all tie us back to the food we eat – and to the land where we live. But the post-war modernist approach to food production, which industrialized agriculture and turned food into a commodity, drew us away from this connectedness, and has managed to pit Global North against Global South. And we are all poorer for it.
This book will give you ideas of how to get your food system back.
As David Suzuki writes on the inside cover page, "Books like this get us started in our thinking and our actions."