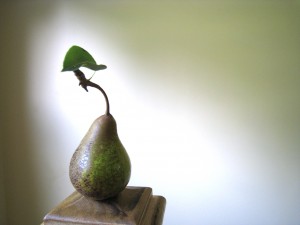 I went pear picking this morning (for the first time ever). It was well worth the early rise on this last day of real summer. The pick was organized by the Halton Fruit Tree Project, a volunteer-based group that picks excess fruit from private property in the area, and then donates it to local food banks. And of course the volunteers get a cut too.
Similar organizations exist all over:
St. John's Fruit Tree Project by Root Cellars Rock!, St. John's
urban Orchard by reachAbility, Halifax
Les Fruits Défendus, by Santropol roulant, Montreal,
Hidden Harvest Ottawa
Not Far From the Tree, Toronto
Mississauga Fruit Tree
Hamilton Fruit Tree Project
The Appleseed Collective, Guelph
Out of Your Tree, Saskatoon (winner of the Best Name Award)
Calgary Urban Harvest Project 
Operation Fruit Rescue Edmonton
Vancouver Fruit Tree Project
The Sharing Farm Society, Richmond
Lifecycles Fruit Tree Project, Victoria
And that's just for Canada, for all 7 of us.
I love the whole idea. It's so simple – and makes sense. If you love local, I seriously suggest you jump on this bandwagon, because it's actually more like a fun hayride.
Not only does so-called excess food not go to waste (by simply rotting untouched on the ground), it becomes available to people in your community who may not normally have access to fresh fruit, in season, at the height of ripeness and peak of deliciousness. On top of that, you can meet some like-minded people in your area and take home a sweet cut of the bounty.
I am no Martha Stewart, but I am stoked about what to make with these pears—a pie maybe, or compote? Or shall I branch out and try a pear chutney? Ding! That's the winner.
This morning was a great way to end summer – and I am psyched that the Halton Fruit Tree Project has a few more picks left in its season. Count me in.